Since establishing the charity in 2016, ABTA's cofounder and CEO, Amy Dawes, has spoken regularly at conferences, workshops, staff training and consumer events sharing her experience of birth-related trauma and being a voice for women and their families on a topic that is often taboo. The content for Amy's presentations are informed by her own experiences as well as the experiences of thousands of women (and their families) who contact ABTA for support.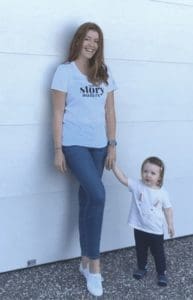 Health professionals have embraced ABTA's evidence-based and inclusive approach to maternity care with maternity service providers inviting Amy to speak at professional development workshops and conferences both nationally and internationally.
ABTA is also fortunate to have a number of advocates (men and women) around Australia available to speak about their personal experience of birth-related trauma (#yourstorymatters).
"Amy Dawes presented at our State Conference in March 2018. I asked her to speak about her personal birth experience in her capacity as Founder & Director of the Australasian Birth Trauma Association. Amy's presentation was deeply personal, moving and engaging for the whole audience. Many health professionals commented to me afterwards about how powerful and educational her message was. I would have no hesitation endorsing Amy as a speaker on the importance of informed decision-making for pregnant women."
Amy is an incredibly talented speaker and presenter. She has the rare ability to take a dense and complex topic and deliver it in a way that makes it easy to understand and engaging to listening to, while still being comprehensive in content. She is naturally personable and easily builds rapport with participants. Amy has a vast and up to date knowledge of birthing practice, birth trauma, and the physical and psychological impact on patients and their families. She tailored her presentation to a clinical audience with specific areas of interest, aligning perfectly with our aims and optimising the value of her talk in the context of our work. In the short speaking time she was given, Amy delivered a hugely informative and polished presentation which had a powerful impact on the audience. We would highly recommend Amy as a speaker and have had fantastic feedback from those who attended her talk. She is professional, credible, and easily engages the audience to deliver valuable insights and inspire ongoing enthusiasm for the topic.
I wanted to share a huge thank you to the Australasian Birth Trauma Association (ABTA) for their incredible presentation at the Royal Prince Alfred Hospital-Birthing Services. The midwives and I learnt so much and we will take these skills with us every day. It provided an opportunity for us to collaborate to better prevent and treat birth-related trauma. We are now readily recommending this service to women, birthing people and their families. The presentation provided current research, education and training. We were able to up-skill in the prevention, diagnosis and treatment of birth-related trauma. It was also an opportunity for us midwives to remember to support ourselves in a safe environment, free from judgement. I look forward to continuing to work with Amy and the Australasian Birth Trauma Association.
Amy was an absolute delight to listen to! Not only was her presentation interesting and informative, but as a guest speaker she was warm and engaging and very down- to-earth. I would have no hesitation in recommending Amy to talk to other MHPN Networks on this very important subject.
Wanting to extend a quick thankyou for your willingness to participate in the 2022 ASM. I'm so grateful for your openness in coming, and being the vital consumer voice on the panel. Birth trauma is undoubtedly something that we need to discuss more within the profession, but can be a polarising topic - particularly with the broader demographic of O+G. I'm so glad that we were able to put the discussion front and centre. The panel has generated lots of much needed discussion within my colleagues. Brilliant! Thankyou in particular for your open and non-confrontational communication style in delivering your message. Your passion and kindness shines through, and you are an incredibly engaging speaker.
Amy was invited to speak upon recommendation at the Childbirth and Parenting Educators Association Inc. (CAPEA) conference in November 2018. The theme of the day was "generating connectedness through childbirth and parenting education". Amy was truely inspiring and engaged the audience very quickly. The words she spoke of her own story were factual and elicited an emotional response from the audience. But Amy was in charge of this the whole time. She addressed the theme of the day with stories from her website. In all, Amy reached a new audience with candour and professionalism and she represented the women of birth trauma with integrity. Amy is a valuable asset to all conferences that include women's health.
Amy Dawes is an outstanding speaker. Clear, empathic, knowledgeable, the work driven by ABTA is needed as she found herself. Too much wishful thinking surrounds childbirth as though we control over this extraordinary event is simple with a small number of variables. Wonderful progress is being made to reduce trauma through physical care. But awareness of the possibilities is to be maternal leaving behind innocent trust in the unknown.
"Amy has such an engaging presence. She was able to strike a balance of providing the 'real' impact of birth trauma, whilst conveying succinctly the ways we need to work collaboratively to raise awareness, prevent and treat physical injuries sustained at birth."
'What a wonderful presentation we experienced from Amy on Birth Trauma from a consumer's perspective. Amy shared with us some great insights about the wonderful work of The Australasian Birth Trauma Association (ABTA), and the much-needed information and education resources available around topics that are often under-represented in antenatal education. Their THINK NATAL program, shares information modules on perineal tears, pelvic floor, instrumental deliveries and recovery from both vaginal and caesarean births and gives tools for having conversations with health professionals. What is so special about this organisation is that they provide virtual peer support, private facebook page for women to receive support, in person support groups and a growing mentor program. The focus of engaging and collaborating with parents and professionals (midwives, obstetricians, pelvic floor physios and mental health clinicians) together is so much needed in this antenatal space. Thank you Amy!'
A Lived Experience of Birth-related Trauma – Start the conversation
The Impact of a 3rd Degree Tear and Pelvic Floor Dysfunction on Relationships
Collaborative Care – The Informed Choice
Navigating postnatal care for Birth-Related Trauma
What Women Want – How Can we Improve Birth Outcomes?
Other topics by consultation.