Opening address - from Amy Dawes
Writing the first ABTA annual report has offered the perfect opportunity to reflect on how far our organisation has come since early 2017 when I was writing our business plan, for the ACNC, with a newborn on my lap!
My team of one grew to two with the addition of Rachel Haywood from BrandUnity, who became our first official volunteer, lending us her time and skills in marketing & communication.
In June 2018, a turning point came when the Brain Injury Foundation recognised an affiliation with our cause and provided funding for our first paid staff role. With this funding I was able to recruit our incredible volunteer manager Christine Percy. Christine has become the driving force behind our peer support program (P2P) enabling us to support affected families across Australia, including the hard-to-reach regional and rural areas.
This past year I've been given a number of opportunities to speak at conferences nationwide including Brisbane, Melbourne, Sydney and, along with our Board member, Dr Oliver Daly, in the UK. Other Board members, Professor Peter Dietz, Elizabeth Skinner and Professor Bryanne Barnett also spoke at national and international meetings to raise awareness of physical and psychological trauma from childbirth and inform clinicians of the valuable work we are doing at ABTA to support affected families.
July 2018 will see us run our first birth trauma awareness week, with the primary goal of raising awareness of birth trauma and its many complexities. Throughout the week, we hope to be featured in a number of major news outlets including scheduled interview with The Project, ABC News, ABC Radio Nationwide and Life Matters on ABC Brisbane.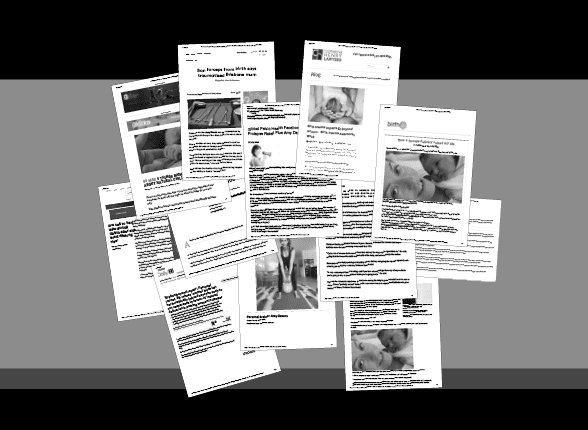 ABTA is the first, and only, charity in Australia solely dedicated to supporting families impacted by a traumatic birth experience. We have received incredible support from a number of sources, in particular the Pelvic Health physiotherapy community, who have embraced our work and distributed thousands of leaflets in clinics nationwide. In turn, we have distributed information regarding the necessity for timely consultation with appropriately qualified specialist physiotherapists.
We have also had a number of individuals and businesses support our cause by fundraising – as a not-for-profit organisation we are entirely funded by donations and we are so grateful for every contribution received.
I would like to thank both Rachel and Christine for going above and beyond since becoming part of the team, as well as Bryanne Barnett, Lana Sussman, Angela James and Jaclyn Thurley for lending their specialist expertise to our mentor training program and all of our peer mentors in their involvement thus far.
My sincere thanks go to my Cofounders, Elizabeth Skinner and Professor Peter Dietz. Liz is this year completing a ground-breaking thesis on the psychological impact of somatic birth trauma. Professor Dietz, who believed in our vision and financially assisted with the set-up of our organisation has continued to provide practical and theoretical expertise. I'd also like to express immense gratitude to our Board of Advisors who have lent their encouragement and expertise in the field of birth trauma since our launch.
To all the women in our 900-strong support group, your strength, compassion and kindness to each other continues to inspire the work I do everyday. To everyone that has been involved and supported ABTA, I thank you.
Amy Dawes
Co-Founder and Executive Director