WHAT IS psychological birth-related trauma?
On this page, you will find general information about psychological birth-related trauma, including common symptoms, possible causes, treatment options and where to find support.
Firstly, we would like you to know that if your birth experience felt traumatic to you, then it was. If trauma feels like too big a word, we get it; trauma from the birth experience is complicated because many people feel like they shouldn't be traumatised.
Birth can be wonderful, but sometimes it is frightening and even traumatic.
This is known as psychological birth-related trauma. Some people think trauma feels like too "big" a word. If your journey to parenthood felt traumatic to you, then it was.
1 in 3 mums finds some aspect of their birth traumatic.
Having a traumatic birth does not always mean you will experience post-traumatic stress disorder (PTSD). 1 in 4 mums experiences some PTSD symptoms after birth, and 1 in 16 meets all the criteria for having PTSD. Getting advice and support early can help prevent your birth-related trauma from becoming PTSD.
It's important to note that birthing people, fathers and non-birthing parents, as well as others witnessing a traumatic birth, can also experience birth-related trauma.
Experiences of trauma are unique, and what may be traumatic for one person may not be traumatic for another. You or your baby don't have to be at risk of death or injury during the birth, or the time around it, for you to experience it as traumatic. Even a birth experience considered 'normal' by health professionals or to your family and friends can be traumatic to the individual experiencing it. Your unique experience is valid and worthy of acknowledgement, treatment and recovery.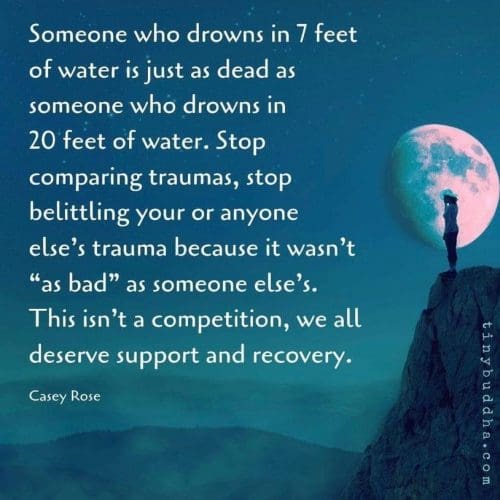 RISK FACTORS FOR DEVELOPING PSYCHOLOGICAL BIRTH-RELATED TRAUMA
You may be more vulnerable to developing birth-related trauma if you experience traumatic events or feelings during getting pregnant, being pregnant, labour, childbirth or during the post-birth period.

Examples of factors that may contribute to birth-related trauma include:
Complications affecting you or your baby during pregnancy, childbirth or soon after
Fear for yourself, your baby or your partner
Feeling out of control or forced into making decisions about care
Having procedures performed without informed consent
Needing emergency interventions such as an emergency caesarean or an assisted delivery (forceps or vacuum)
Experiencing significant pain
Feeling not being listened to or respected, e.g. having concerns dismissed and feeling judged or criticised
Feeling alone or unsupported by your partner or health professional
Having a long, difficult labour or a very quick delivery
Being separated from your baby, e.g. mum or baby needing to be in a higher care setting such as ICU or NICU/special care
Having a premature baby
Not feeling informed
Any other shocking or unexpected experiences during birth.
It took me 6 years, 4 operations for endometriosis and 9 rounds of IVF to conceive my first, and then experience a traumatic birth.
Any of these experiences can be influenced by your personal history, such as;
Previous perinatal loss, such as stillbirth or miscarriage
Complications affecting you or your baby during pregnancy, childbirth or soon after
Mental health problems
A history of trauma, such as sexual assault or abuse
Low levels of emotional or practical support during childbirth or after the baby is born
Your partner or other birthing support people can also experience birth-related trauma. It is important to recognise the signs of birth-related trauma, both in yourself and others, and seek help.
I felt completely powerless and scared as I watched the hospital staff insert a cannula in my hours-old daughter's hand and placed her into a Humidicrib with a CPAP machine. I had no idea what was happening and again felt like I was in the way. Nobody updated me on both my Fiance or daughter unless I asked.
Common psychological birth-related trauma symptoms include: 
re-experiencing the traumatic event through intrusive thoughts, nightmares or flashbacks 
avoiding talking about the birth or avoiding reminders of the birth ('triggers')
experiencing mood changes such as feeling sad, rage, jumpy or agitated
feeling hypervigilant (on high alert), worrying something bad will happen to your baby
having panic attacks
For some, the symptoms are not noticed until months or even years after the birth, for example, when pregnant and about to give birth again.  We want you to know that no matter how much time has passed since your trauma occurred, it's not too late to get support.
*Please note this information does not cover every possible mental health condition or symptom and does not take into consideration your individual experience or situation. If you or someone you know is having trouble, seek help and discuss your questions or concerns with a health professional.