A fistula is an abormal passage between two parts of the body that would not normally be connected. When a fistula arises as a complication from childbirth it is called an 'obstetric fistula.' A fistula is rare but known complication of third and fourth degree perineal tears.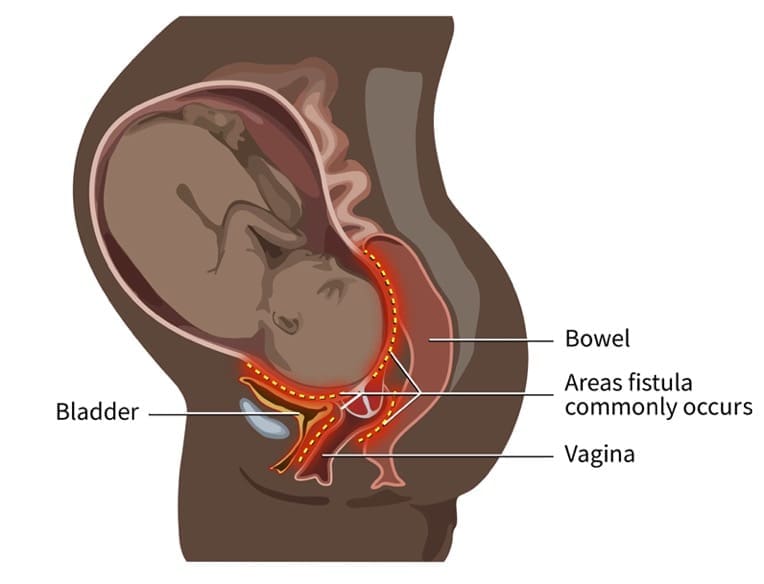 Soft tissues are caught between the baby's head and the mother's pelvic bone, restricting blood flow.
A fistula may be caused by infection, inaccurate identification and classification of a perineal tear, or inadequate repair of a tear. A fistula resulting from a complication in the healing of a third or fourth degree tear may be rectovaginal (between the rectum and vagina), anovaginal (between the anus and vagina) or perianal (between the perianal skin and the rectum).
The fistulas most commonly suffered in developing countries are the result of prolonged obstructed labour (often for days) without adequate medical care. Obstetric fistulas that occur in developed countries like Australia and New Zealand are the result of a complication in the healing of a third of fourth degree perineal tear. Most information available on obstetric fistula relates to fistulas suffered by women in the developing world. This information can be confusing for women in developed countries as the types of obstetric fistulas suffered are markedly different.
There are also non-obstetric causes of fistula which are not uncommon and often affect young otherwise healthy people who have developed an infection in the anal glands, or less commonly from Crohn's disease or radiotherapy.
A fistula may be simple (involving no or minimal muscle) or complex (involving a significant amount of muscle). Treatment will depend on the anatomy of the fistula and should prioritise preservation of continence (ability to control bowel movements).
-Passing gas through the vagina
-Passing of faeces (poo) through the vagina
-Chronic inflammation or recurrent infections of the vagina or urinary tract
-Recurrent abscess
-Foul smelling discharge
-An opening or wound on the perineum that will not heal
Diagnosis of an obstetric fistula can understandably be extremely upsetting and confronting, especially if you have struggled to receive a diagnosis. Please know that help is available. Ask your GP or obstetrician for a referral to a specialist colorectal surgeon or gynecologist who is experienced in managing obstetric fistulas. You may also wish to join the ABTA community for recommendations, support and general advice from other people that 'get it'.
If you have any questions when you're finding help, do not hesitate to reach out to us via support@birthtrauma.org.au We are always happy to help. 
Contact the ABTA's Peer2Peer Mentor Program for support