The Pelvic Floor Explained
The pelvic floor muscles are a supportive basin of muscle attached to the pelvic bones by connective tissue to support the vagina, uterus, bladder and bowel. The main group of muscles providing this support is called the 'levator' muscles. There are also nerves that relax or squeeze these pelvic muscles as needed.1
Between the levator muscles there is an opening that allows the urethra, vagina and back passage to exit the abdomen. This is called the 'levator hiatus'.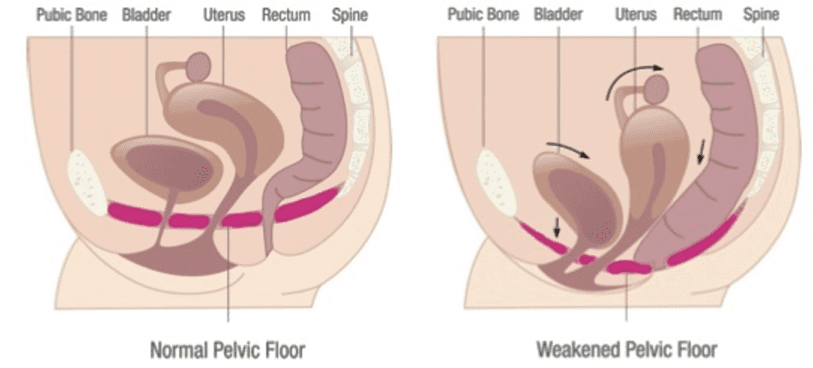 What Happens to the Pelvic Floor During Childbirth?
During a vaginal birth, the baby needs to pass through the 'levator hiatus' in the pelvic floor, and the muscles, connective tissues and nerves can be damaged in the process. The levator muscles are stretched by 1.5 to more than 3 times their normal length as the baby passes through, depending on the size of both baby and pelvic floor muscle opening.2,3 In many women, these muscles return to normal but in 10-30% of women the muscles are overstretched or sometimes torn off the bone. This injury is called a 'levator avulsion'. 4,5
Whether a woman suffers damage to the pelvic floor in labour or not depends on many things. In general, the older a mum is at the time of the first vaginal birth the less the tissues are able to stretch and the greater the chance of injury. Older mums-to-be have a higher rate of caesarean or assisted vaginal delivery, including forceps or vacuum.6 Even if a woman manages to avoid a caesarean, the risk of pelvic floor muscle injury rises by about 10% with every year of delay in having your first child.7 It is also important to note that it's the first vaginal birth that generally causes the most damage, with the following births having less effect on the pelvic floor supports.8,9 A second vaginal birth without forceps, is unlikely to cause additional damage.8 However, women who have a vaginal birth after a previous caesarean section (VBAC) have higher rates of pelvic floor trauma.
Pelvic Floor Injury After Childbirth
Unfortunately, it is difficult to know which women will have trauma and those that won't. Once injury to the pelvic floor has occurred, the muscles and connective tissue no longer provide the support they once did. Injury to the pelvic floor is very deep and cannot be seen and it is therefore difficult to identify at the time of birth. It is often much later, when women have bladder or bowel problems, or the vaginal bulge feeling of prolapse, that the injury is recognised.
While most perineal injuries usually heal well, the same does not seem to occur with these deeper pelvic floor tears known as levator avulsions. There are many studies tracking the follow-up appointments of women for years after a levator avulsion that show that the muscle has not reattached itself or healed.10
Doctors and pelvic health physiotherapists who specialise in treating pelvic floor problems can detect injury through physical examination and/or pelvic ultrasound. A 4D pelvic floor ultrasound by a specially trained clinician is the best method for seeing pelvic floor structures.